The Loons Lottery, since its conception in March 1999, continues to be one of the Clubs most successful ongoing fund raising initiatives. This money spinning venture, initially co-ordinated by then Director Mike McEwan and his wife Helen, has proved a real boon, not only to The Loons, but for a host of other sporting groups and other organisations.
Over the ten year period, groups involved in the Lottery have benefited to the tune of over £400,000, as they retain 50% of all of the weekly ticket sales. Forfar Athletic absorbs all of the operating and prize money costs.
A recent press and programme release by Loons Director Dennis Fenton, who now runs the weekly draw, stated that from the current 35 organisations currently taking part, he estimates that at least 30% of these groups will raise over £1000 per annum with one group hitting over £2000 !!!. How much difference would that make to your Clubs funds? "We are always keen to welcome new organisations on board," explained Dennis. "It is quite staggering what can be raised in a year with little effort".
The draws are made every Monday evening at Station Park, when anyone interested in joining or simply finding out more would be made very welcome. The Jackpot prize starts at £500 and rises, if not won, in weekly increments of £250 to a maximum of £3000. If the jackpot is not won, five £20 consolation prizes are drawn from the participating tickets.
Many of the participating clubs and organisations now look on The Loons Lottery as their major fund raiser. Why not find out how your group can join and become part of the Loons Lottery success.
Winning Numbers for Monday the 14th of April 2014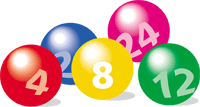 This week's Loons Lottery numbers are 2, 3, 4, 10, 11, 12.
No Jackpot Winner.
Consolation prizes of £20
P. Charlton Forfar Agent 22
G. Walker Forfar Agent 24
K. MacGillivray Forfar Agent 41
A. Todd Kirriemuir Agent 45
W. Greenhill Forfar Agent 45
Next week choose 6 from 15 for £2750.
Loons Lottery Jackpot Hat Trick
Three Loons Lottery players hit the back of the net last week sharing the maximum £3000 Jackpot.
First on the score sheet with a blistering drive was local butcher, Kris Davidson, pictured outside his North Street shop with Loons Director, Dennis Fenton. Well known Loons fan JIm Douglas, then surprisingly rose above the defence to bullet home a header, followed by on loan Arbroath playmaker C. Bruce completing the scoring.
A win bonus of £1000 goes to each of them for an outstanding display of lucky number selection.
The Lottery now reverts back to £500 which if not won soon will gradually build to a very worthwhile Christmas present for someone. But remember, you have to be in it to win it.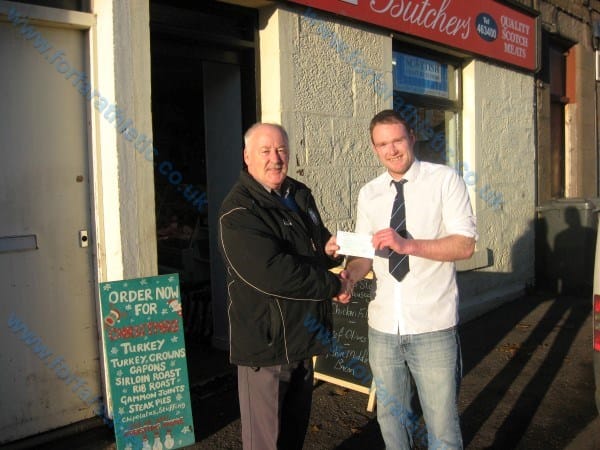 Kris Davidson with Loons Director Dennis Fenton
TRACY HAS LUCK WITH "THE LOONS"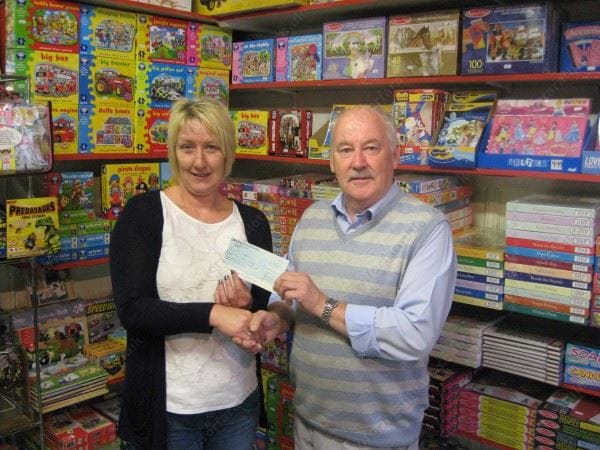 Tracy Lawson receiving her cheque for £1750 from Forfar Athletic Director Dennis Fenton
Try, try, try again has paid off for Tracy Lawson when she scooped the latest LOONS LOTTERY JACKPOT of £1750. Collecting her cheque from Forfar Athletic Director Dennis Fenton at The Toycastle on Tuesday morning, she was obviously delighted with her win but also wished to thank Wilma Whyte, the agent who sold her the ticket on behalf of the Angus 3-Way Charity.
The Loons Lottery on a weekly basis contributes a substantial amount to Wilma's fundraising and Forfar Athletic are delighted to be part of this local initiative.
Tracy joins the list of local people who have already won not too insignificant jackpot prizes this year. If you would like to take part yourself or consider becoming an agent to raise funds for your Club or Organisation, just contact Dennis at The Toycastle in Castle Street.