The Loons Lottery, since its conception in March 1999, continues to be one of the Clubs most successful ongoing fund raising initiatives. This money spinning venture, initially co-ordinated by then Director Mike McEwan and his wife Helen, has proved a real boon, not only to The Loons, but for a host of other sporting groups and other organisations.
Over the ten year period, groups involved in the Lottery have benefited to the tune of over £400,000, as they retain 50% of all of the weekly ticket sales. Forfar Athletic absorbs all of the operating and prize money costs.
A recent press and programme release by Loons Director Dennis Fenton, who now runs the weekly draw, stated that from the current 35 organisations currently taking part, he estimates that at least 30% of these groups will raise over £1000 per annum with one group hitting over £2000 !!!. How much difference would that make to your Clubs funds? "We are always keen to welcome new organisations on board," explained Dennis. "It is quite staggering what can be raised in a year with little effort".
The draws are made every Monday evening at Station Park, when anyone interested in joining or simply finding out more would be made very welcome. The Jackpot prize starts at £500 and rises, if not won, in weekly increments of £250 to a maximum of £3000. If the jackpot is not won, five £20 consolation prizes are drawn from the participating tickets.
Many of the participating clubs and organisations now look on The Loons Lottery as their major fund raiser. Why not find out how your group can join and become part of the Loons Lottery success.
Winning Numbers for Monday the 15th of December 2014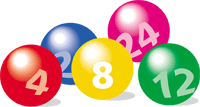 This week's Loons Lottery numbers are 2, 4, 7, 10, 11, 15.
No Jackpot Winner.
Consolation prizes of £20
J. Ross Kirriemuir Agent 14
M. Shaw Forfar Agent 14
E. Johnston Forfar Agent 19
S. Jack Scone Agent 45
M. Clark Forfar Agent 98
Next week choose 6 correct from only 1 for £2750!!!!!!!!
How many reasons does anyone need to buy a Loons Lottery Ticket this week???? How about 2750 reasons !!!. Less than two weeks to go before Christmas and the Loons Jackpot stands at £2750. Buy a ticket, support the top of the table Loons, and give yourself a chance of an even better Christmas.
Winning Numbers for Monday the 13th of October 2014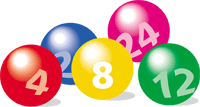 This week's Loons Lottery numbers are 2, 3, 5, 8, 15, 16.
One Winner A. Shepherd, Aberdeen (Agent 45).
Next week choose 6 from 24 for £500.
Winning Numbers for Monday the 28th of July 2014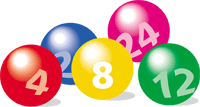 This week's Loons Lottery numbers are 2, 3, 6, 9, 11, 17.
No Jackpot Winner.
Consolation prizes of £20
K. Gray Forfar Agent 1
R. Duncan Forfar Agent 9
Mr. Millar Forfar Agent 9
L. Kelly Forfar Agent 65
E. Robertson Forfar Agent 84
Next week choose 6 from 18 for £2000.
Winning Numbers for Monday the 21st of July 2014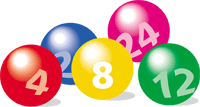 This week's Loons Lottery numbers are 5, 6, 13, 15, 16, 19.
No Jackpot Winner.
Consolation prizes of £20
E. Taylor Brechin Agent 1
W. Foreman Forfar Agent 2
E. Hardie Forfar Agent 12
T. Smith Forfar Agent 19
A. Sherwood Forfar Agent 45
Next week choose 6 from 19 for £1750.
Loons Lottery £2250 Jackpot Draw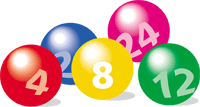 JOHN HITS THE JACKPOT !!!!!
John Welsh from Viewmount was only too willing, following an earlier phone call, to make the short trip to the Station Park boardroom on Monday night, to collect a cheque for £2250 from Club Directors, Dennis Fenton, Bob Charlton and Gordon Menmuir. This windfall will go towards John's already planned trip to Silverstone Racetrack to take in a few bike races. His formula of selecting his lottery numbers from birthdays and house numbers certainly paid off on this occasion.
Whilst John was obviously the major winner on this occasion, the Viewmount Voices Residents Group, from whom he bought the ticket, also benefits as money from each ticket sold goes towards the improvements they have planned for the Viewmount area. Forfar Athletic are delighted that the
Loons Lottery continues to assist The Viewmount Voices and other groups throughout the Town.
John's winning numbers were 2, 5, 9, 10, 13, 15.