Supporters have an important role to play in the running of part-time football clubs such as Forfar Athletic Football Club. And, when it comes to fund-raising ventures, the small but enthusiastic membership of the Forfar Athletic Supporters' Club continually comes up trumps.
At the end of the 2014/2015 season, the Supporters' Club presented a cheque totaling £20,000 to the club, following a number of ventures held throughout the season. The Supporters' Club relies on the support of the local community and would like to thank everyone who helps with and attends Supporters' Club events.
In particular a huge thank you goes to Rhona, Laura and their team who run the 'Pie' Shop at every home game. The shop continues to be one of, if not the best, in Scottish Football for quality, selection and service. The team gives their time on a voluntary basis and their hard work is very much appreciated.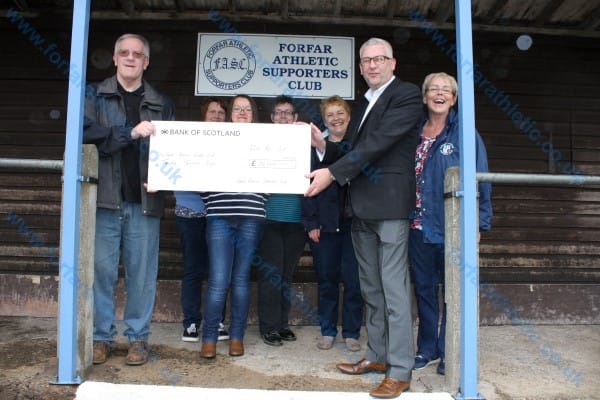 Members of the Supports Club Present the Forfar Athletic Chairman, Alastair Donald, with a cheque for £20,000
It only costs £7 for adults, £5 for senior citizens and £2 for under 16s to join the Supporters' Club for a year and, for that, fans can enjoy the sanctuary of a portable building to the west of the main stand on match days. It is a chance for members to meet each other over a cuppa at half time, and keep up to date with the various fund-raising ventures planned for the season.
Adults and Seniors - Click here for the downloadable form (PDF)
Juniors (Under 16s) - Click here for the downloadable form (PDF)
Please download and complete the membership application and return it to Laura Sutherland, Secretary.
Pass your application to Laura at the refreshment kiosk at a home game where you can pay cash or alternatively post it with a cheque made payable to Forfar Athletic Supporters Club to the address below.
Laura Sutherland
Station Park
Carseview Road
Forfar
DD8 3BT
Following the AGM on the evening of Thursday 25th June 2015 the following were elected:
Chairperson - Laura Sutherland
Vice Chairperson - Rhona Shepherd
Secretary - Karen Kelly
Treasurer - David Strachan
Minute Secretary - Helen Dryden
Shop Convenor - Rhona Shepherd & Laura Sutherland