Supporters have an important role to play in the running of part-time football clubs such as Forfar Athletic Football Club. And, when it comes to fund-raising ventures, the small but enthusiastic membership of the Forfar Athletic Supporters' Club continually comes up trumps.
At the end of the 2015/2016 season, the Supporters' Club presented a cheque totaling £22,000 to the club, following a number of ventures held throughout the season. The Supporters' Club relies on the support of the local community and would like to thank everyone who helps with and attends Supporters' Club events.
In particular a huge thank you goes to Rhona, Laura and their team who run the 'Pie' Shop at every home game. The shop continues to be one of, if not the best, in Scottish Football for quality, selection and service. The team gives their time on a voluntary basis and their hard work is very much appreciated.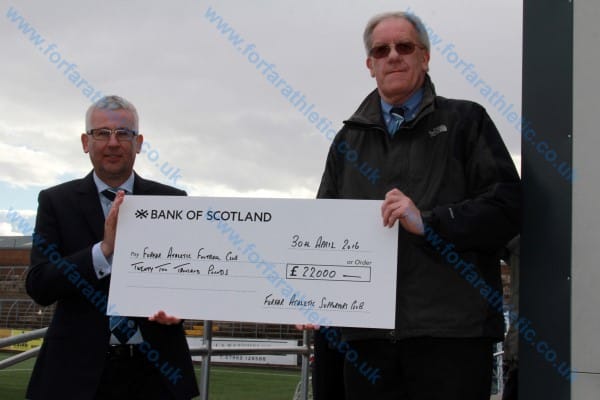 David Strachan of the Supporters' Club presents the Forfar Athletic Chairman, Alastair Donald, with a cheque for £22,000
Following the AGM on the evening of Thursday 25th June 2015 the following were elected:
Chairperson - Laura Sutherland
Vice Chairperson - Rhona Shepherd
Secretary - Karen Kelly
Treasurer - David Strachan
Minute Secretary - Helen Dryden
Shop Convenor - Rhona Shepherd & Laura Sutherland