LOONS ROMP HOME TO VICTORY
Saturday, 18 August 2012 17:40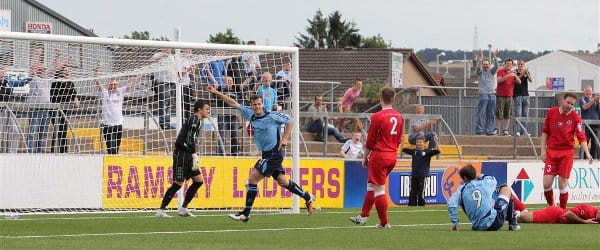 Forfar Athletic 4 Stranraer 0
After three successive defeats, Forfar Athletic bounced back in style to comprehensively defeat Stranraer by four goals, however it could have been by much more. All in attendance at Gayfield in Tuesday night's defeat witnessed a hungry Forfar attack, and that carried on from the first minute of this match. The opening goal arrived early doors to settle any nerves, and was a really well worked manoeuvre. Ross Campbell collected the ball from Swankie 25 yards from goal and waited for support, he passed the ball inch perfectly into the path of the on-rushing Mark McCulloch, who hit the bye line beating his marker into bargain before crossing low for GAVIN SWANKIE to flick the ball home from close range. A delightful goal, however that would be out done later in proceedings.

The home side were certainly enjoying the upper hand with Templeman coming close to doubling the lead after 17 minutes when he glanced a Fotheringham corner inches wide of the target. A one-two between Swankie and Gibson saw Gibson take one stride forward before hammering a good shot on target, however Mitchell made a good save turning the ball past for a corner. Despite more pressure on the visitors goal, the Loons could not increase their advantage before the break.
The home fans didn't have to wait too much longer though as goal number two arrived three minutes into the second half. A McCulloch cross was missed by Swankie, but DENHOLM was on hand to stab home from 6 yards out. A minute later and the contest was over. There didn't appear to be much danger when a long ball found its way to the edge of the Stranraer box, but as Templeman put on some pressure STAUNTON head past his own keeper with a pass back. It was one way traffic, and Forfar had a great chance to increase their lead when a penalty was awarded on the hour mark, Fotheringham took the spot kick, however his effort was weak and Mitchell saved.

Disappointment for "foxy", who has always been known for his long range efforts rather than his penalties. Today was to be no different. A short pass found FOTHERINGHAM some 35 yards out and he hammered home an inch perfect shot which I doubt any keeper in the world could have stopped. In 38 years of supporting Forfar that has to be one of the very best strikes I've ever seen at Station Park. More chances arrived for the home team, none more clear cut as when the ball fell for Swankie 10 yards out, with the goal gaping all in the ground were surprised to see him fire inches past the goal, the spin on the ball seemingly to blame.
A tremendous performance by the Loons, let's hope there are many more of these to savour this season.
Match report by Kevin Brown