Arbroath 2 Forfar Athletic 0
Sunday, 16 October 2016 20:40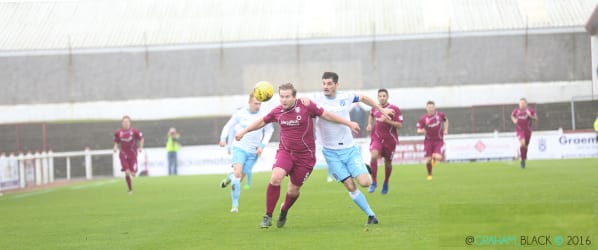 On a stormy day in Arbroath Forfar's dismal run continued getting beaten comfortably by their local Angus rivals again!!!
The wind was playing a big factor in the game with the ball in the air being difficult to control, Thomas O'Brien tried his trademark 25yard shot but flew well over the bar. Arbroath were creating chances with Bobby Linn hitting the touchline to cross for Steven Doris to get his head on but couldn't quite get enough power on the ball, Omar Kader tried his luck from the edge of the box but again the wind carried the ball well over Grant Adams bar. Forfar's Josh Peters showed good feet at the edge of the 18yard box and laid the ball off to Michael Kennedy who tried a cross come shot that was well saved by Ricky Gomes. Steven Doris was having an influence on the game and floated a ball over the Forfar defence where Martin Scott got a good shot off but was well saved by Grant Adam. The first controversial point of the game with a penalty awarded against Gavin Swankie as Omar Kader drove into the box from the touchline he was deemed to be pushed over and Bobby Linn stepped up and too casually tried to dink the ball into the net which hit the crossbar. Minutes later a second penalty had been awarded for Arbroath after Jamie Bain had fouled Steven Doris as he drove in on Grant Adam's goal and Craig Napier the referee deemed it to be a clear goal scoring opportunity and send Jamie off. The penalty was brilliant saved by Grant Adam full length dive to his left to deny Ryan McCord to open the scoring.
HALF TIME ARBROATH 0 FORFAR ATHLETIC 0
Second half Arbroath seemed to get a strangle hold on the game and Forfar didn't seem to take any advantage of the two penalty misses/saves in the first half, so was not real surprise when Arbroath opened the scoring with a corner worked by Bobby Linn floating the ball into the 6yard area and David Cox couldn't do anything else but turn the ball past Grant Adam for an own goal. Danny Denholm come on and did try to inject some forward momentum but scuffed his final shot after driving at the Arbroath defence. Arbroath continued to create chances with their subs Josh Skelly and Gavin Malin having shots on goal and then from a poor clearance well outside his area Grant Adam presented Bobby Linn with an opportunity to go for an open goal, all be it 35-40 yards out. Forfar's closest effort of the afternoon fell to Marc Scott as he managed to latch onto a cross only to hit the right hand post of Ricky Gomes goal. Arbroath made the points secure with free kick floated into the penalty are where Martin Scott glanced a header home.
FULL TIME ARBROATH 2 FORFAR ATHLETIC 0
Match report by Brian Henderson