Edinburgh City 0 Forfar Athletic 0
Sunday, 23 October 2016 14:29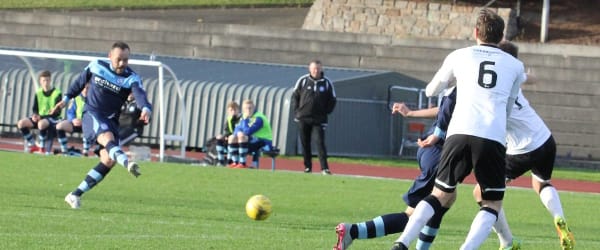 Forfar Athletic started the game positively and dominated possession from the off but again couldn't quite find that cutting edge to capitalise on the chances they were creating. Jamie Bain put in a cross come shot into the danger area but Josh Peters couldn't quite get enough on his header but the ball bounced awkwardly for Andrew Stobbie to deal with. Jamie again tried his luck from just outside the penalty are with a curling shot trying to find the top corner, but again was thwarted by Andrew Stobbie at full stretch. Ryan Porteous had a snap shot but didn't trouble Grant Adam and went well wide. Stuart Malcolm played a great ball over the top for Gavin Swankie to take a nice touch and bear down on the goal by again Andrew Stobbie blocked well. Edinburgh started to come into the game with shots from Ross Guthrie and Marc Laird and a ball broke to Mark McConnell but Grant Adam was off his line quickly to smother the danger. David Cox launched the ball into the box from a throw in, where Jim lister controlled and turned but shot was blocked.
HALF TIME EDINBURGH CITY 0 FORFAR ATHLETIC 0
The second half, Edinburgh City certainly started the brighter and pushed at every opportunity, Douglas Gair flashed a ball across the 6yard box and Stuart Malcolm slashed at the ball to get it over the crossbar. Craig Beattie showed some nice skill controlling the ball on his chest and getting a volley off towards Grant Adam's left hand post. Martyn Fotheringham was Forfar's free kick tacker all day but failed to make any impact, one of the balls he slipped to Gavin Swankie who stood the ball up but just to high for Andy Munro to connect with. Ross Guthrie, Craig Beattie and Ryan Porteous all came close. From an Edinburgh attach, Grant Adam puched the ball clear for Danny Denholm to pick up and drive at the defence, slipping a good ball throught to Jim Lister but his shot was well smothered by Andrew Stobbie again.
FULL TIME EDINBURGH CITY 0 FORFAR ATHLETIC 0
Match report by Brian Henderson