Forfar Athletic Hospitality
Thursday, 28 July 2011 09:09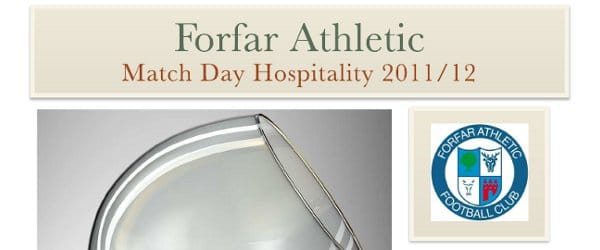 Forfar Athletic are giving supporters the chance to enjoy the full Station Park hospitality package at the Stenhousemuir fixture on Saturday August 20th without having to be part of a normal party of ten people.
Bookings are being accepted for this match only from INDIVIDUALS upwards while of course larger parties can still be accommodated.
The cost is the normal £55 per person (£50 for season ticket holders) and the itinerary for the day is as normal;-
1p.m. – pre-lunch drinks followed by three course meal with wine, coffee and mints and complimentary bar till 2.40p.m.
Stand seats at game
Half time – tea/coffee and sandwiches
Full time – bridies, pies and complimentary bar till approx 6p.m.
This an excellent chance for supporters who may not have had the opportunity on previous occasions to enjoy the 'Loons' corporate hospitality day out which has come in for a great deal of praise over the years.
Bookings or further enquiries to David McGregor on 07871 165689 or contact any club official.