Lewis Milne returns to Station Park
Friday, 17 November 2017 15:11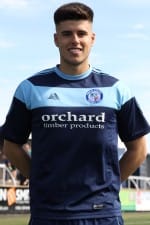 The 'Loons' have added to their depleted squad with the signature on an amateur form at present of Lewis Milne who left the club in May of this year to head for Perth in Western Australia.
The Fifer made 33 starting appearances in an attacking midfield role for the Station Park club last season netting on 10 occasions.
Prior to heading off to the other side of the world to play for Perth Soccer Club, Lewis was reinstated in Scotland to amateur status to allow him to play in the Western Australia Premier League.
Lewis has been back in Scotland for a month and has been training with Forfar over the past couple of weeks prior to his subsequent signing and the arrival of International Clearance which came through this morning.
He goes straight into Jim Weir's squad for tomorrow's cup tie.