Dale Hilson Re-joins Loons
Thursday, 06 December 2012 20:46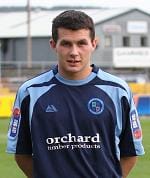 Dale HilsonForfar Athletic Manager Dick Campbell could not hide his delight tonight at securing the services of striker Dale Hilson albeit on a short term emergency loan deal.
Dale moves from Tannadice to Station Park for a third time until January 13th, a period during which the 'Loons' are scheduled to play seven league fixtures.
United Manager Peter Houston will of course be hoping that his young stiker who has been a fairly regular substitute in first team fixtures this term in the Premier League will benefit from a spell of competitive first team action.