Forfar Lose Out in Close Battle With English Giants
Friday, 23 July 2010 22:00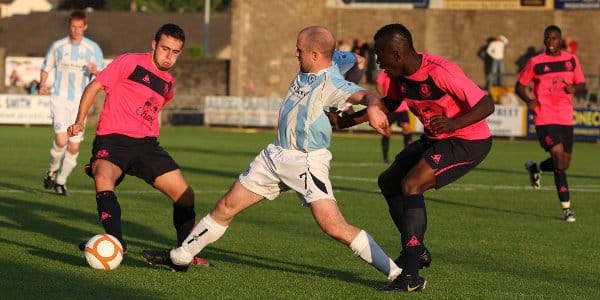 Forfar Athletic 2 Everton 3
The Loons lost out to a goal in the final minutes against a skilful Everton side in the match celebrating Forfar's 125th anniversary.
A crowd of over 700 turned up hoping to see some big name stars from the English Premier League. The Everton starting eleven inlcuded three players with first team experience, with James Vaughan probably the most well known.
Forfar won the first corner of the match after only 3 minutes, when Chris Templeman chased down a Martyn Fotheringham long ball only for Zak Thomson to intercept. From the resultant corner Stephen Tulloch attacked the ball well, and headed just past from 10 yards out.
Five minutes later and Everton's class was evident when firstly a defence splitting pass from Jose Baxter set up Akran to slot home goal number one, and then James Vaughan collected a pass from Barkley before drilling past Euan McLean to give the visitors a 2-0 lead.
At this stage it looked like Everton could run riot, but Forfar stood tall and made a game of it. On the 15 minute mark the Loons pulled a goal back when Iain Campbell picked out Martyn Fotheringham who proceeded to slot the ball into the bottom corner of the net.
Mid way through the first half and a long throw in from Mark McCulloch landed deep in the Everton danger area, they couldn't clear properly and Chris Templeman controlled well drilling low into the arms of Adam Davies.
The remainder of the half saw some good football played by both sides, but no further goals.
The Forfar comeback was complete 12 minutes into the second half, when the ever impressive Chris Templeman flicked the ball on to Paul Watson who was on hand to shoot low past Davies.
A minute later and Watson almost gave the Loons the lead when he just failed to connect with a Paul Lunan cross from the right.
A string of substitutions from both sides stopped the flow of the game over the remaining 20 minutes, and just as a draw looked likely Everton wrapped up victory in style as substitute Bob Sheppers avoided several Forfar challenges before setting up Baxter who fired low for victory.
A win for the visitors, but Forfar were far from overshadowed by the talented Everton side.
Match Report by Kevin Brown