Loons Return To Losing Ways
Tuesday, 03 April 2012 11:27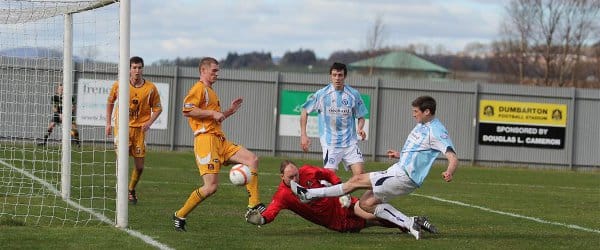 Dumbarton 1 Forfar Athletic 0
Following last weeks victory against Stirling Albion, Forfar Athletic must have fancied their chances visiting a Dumbarton side which had lost four on the trot. Unfortunately, the Boss was unable to pick the same eleven that began so well last week, as both Martyn Fotheringham and David Mowat were injured. Graham Gibson and Chris Hegarty were able replacements, and Greg Ross returned to the starting line up following suspension, with Bradley Coyne relegated to the bench.
The home side twice came close to opening the scoring within the first 10 minutes, and both times it was Scott Agnew who was involved. His first effort was direct from a 20 yard free kick and the ball clattered off the top of the cross bar, although Paterson did appear to have it covered, and minutes later another long range effort was tipped over following good work on the left by Mpata. Dumbarton continued to dominate the opening spell and next it was Prunty to try his luck from distance, his shot drifted wide of the target.

After quarter of an hour things started to settle, and Forfar began to have the upper hand. Nicky Low fired in a accurate free kick which Grindley easily saved, then Dale Hilson's shot was deflected past after he received a good pass from Low. A long kick out by Paterson then reached Hilson, who anticipated the bounce better than his opponent and managed to fire a fierce shot, however it went inches past. After 37 minutes a Low free kick was headed down by Chris Templeman into the path of Motion, he had to adjust his positioning before connecting, and this gave a home defender time to half block Kevin's shot and the ball skewed past for a corner. Just before the interval Dargo sent through a good pass for Gilhaney to chase, he controlled the ball well before powering in a 20 yard shot, but Tulloch managed to block the effort.
At half time Forfar could perhaps deem themselves unlucky not to be in front, and after 51 minutes really couldn't have come much closer to taking the lead. A Nicky Low fee kick curled over the home defence and Joe Shaughnessy read the situation well by getting to the bye-line and crossing over, the ball was inches away from Templeman and Hilson, a touch would have lead to a certain goal with Grindlay stranded. Five minutes later and Dumbarton scored the only goal of the game. Mpata crossed deep into the Forfar area and Tulloch cleared the danger for a corner, AGNEW curled in an in swinging corner which Paterson tried to palm away, but only succeeded in directing the ball into his own net. A howler from Greg, who up to then was having a decent game.

Forfar didn't lie down, and for the remaining half hour created the better of the chances. After 67 minutes a quality move between Hilson, Low and Templeman saw Dale hammer a shot inches over the bar, and minutes later a one-two between Templeman and Motion resulted in another effort sailing over. Despite Forfar's chances, it was Dumbarton who almost scored again, Lithgow released Gilhaney who burst away from the Loon's defence to get himself one-on-one with Paterson, his shot was well blocked by the keeper, and the danger was cleared. Paterson was again called into action as Gilhaney raced towards him, and again Greg redeemed himself for earlier, by winning the battle, as he cleared the ball however, it was headed goal wards by Graham from 25 yards out, only to see Tulloch head behind for a corner.

With time running out Forfar continued to look dangerous. Within 30 seconds of coming on as a substitute, Ross Campbell's shot from the edge of the box was only parried by Grindlay and as Templeman raced to collect the loose ball, a home defender just got there first and cleared. With the match deep into injury time the Loons were pushing forward in numbers and yet another chance was stopped by a block from a Dumbarton player.
So, Forfar travelled home pointless due to a defensive blunder and their failure to be more clinical in front of goal. A common theme this season. On a positive note, Forfar continue to create plenty chances. Albion Rover's victory over League leaders Cowdenbeath pulled us back into the relegation battle, and with our remaining games against the ever improving East Fife, the two Championship contenders Cowdenbeath and Arbroath, Albion themselves and play off hopefuls Stenhousemuir, it's going to be a nerve jangling end to the season.
Match Report by Kevin Brown