IT'S A HAT-TRICK OF WINS !!!!!
Tuesday, 19 November 2013 08:59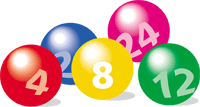 This evenings £3000 maximum jackpot draw resulted in a three way share of the prize. Two of the £1000 cheques staying in Forfar and one heading for Arbroath. The jackpot now reverts to £500 next week which means if it is not won over the next few weeks it is possibly going to be a very good Christmas present for a lucky player. Make sure that you have a chance to win by contacting any of the many agents.
Tonights numbers were 1, 2, 3, 7, 9, 14.
Sharing the £3000 with a cheque each of £1000 were:-
C. Bruce Arbroath Agent 9
J. Douglas Forfar Agent 15
K. Donaldson Forfar Agent 45
Next week choose six from 24 for £500