Loons Lottery Brings Early Christmas Cheer
Wednesday, 08 December 2010 00:00
Christmas came early to Gwen Robertson this week when Forfar Athletic Director, Dennis Fenton called to present her with the latest Jackpot prize of £2750.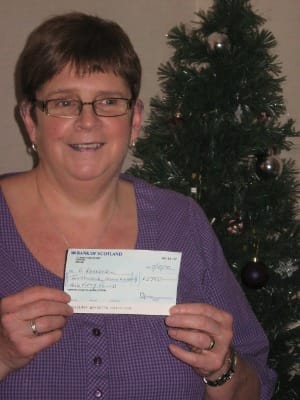 Gwen had bought her lucky ticket from her usual agent, Forfar Albion, of which husband Tam is a Committee Member. Both Gwen and Tam are delighted to be involved with The Loons Lottery, Gwen because of her big win and Tam as the "Loons" contributes a major contribution to the Albions funds on a weekly basis.
Dennis, who recently welcomed the Lochside Boys U 14's, and Angus 3-Way to the "Loons" family, continues to encourage other Clubs and Organisations to use this avenue as a fund raiser. Since the last Lottery Jackpot win of £1750 at the end of September, fifty lucky players have won £20 each in consolation prizes and a total of over £8000 has been raised by the participating clubs involved.
Anyone wishing to find out more about fundraising with "The Loons", Forfars most popular and successful fund raising initiative, can contact Dennis on Forfar 464424, 463001, at The Toy Castle or at Station Park on any match day.