Loons Finally Win in Peterhead
Saturday, 14 August 2010 17:00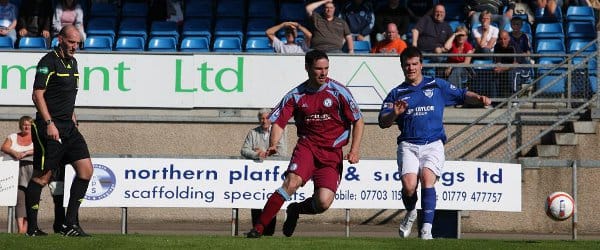 Peterhead 1 Forfar Athletic 2
Good start to this match from both sides and Forfar had several chances early on mainly down the left flank where Gibson, Hilson and Mowat all has shots on goal. But Forfar didn't have too long to wait for the opener, a corner from the left swung in and picked up by Sellars on the right, passed to Templeman who competed well inside the box and the ball fell nicely for Gibson to slot home. Peterhead were trying to get back into the game and a good run from Donald seen him get a good shot away but Gallacher made it look very comfortable. Hilson was tormenting the Peterhead defence and he doubled the Loons lead when Gibson slid him the perfect ball from the 18 yard like for Dale to finish calmly.
The rest of the first half was pretty even, Sellars tried his luck from 30 yards out after receiving the ball from Templeman but it was straight at the Jarvie and he couldn't quite repeat his feat of Tuesday night from a free kick that Hilson won with another powerful run at the defence, as the ball flashed past the Peterhead goal.
Peterhead comes out fired up for the second half and a bit of a scramble inside the Forfar penalty area sees the Peterhead players claiming the ball had crossed the line, twice but nothing was given and Gallacher collects to avert the threat. Forfar continued to press and a good cross from McCulloch was well meet by Templeman but Jarvie had a good position and made the save comfortably.
The flashpoint of the game came 30 minutes into the second half when Bavidge was fouled by Gallacher just outside the 18 yard box and the referee deemed him to be last man and flashed the red card. Forfar sacrificed Templeman as the out field player and McLean took on the goalkeeping post for the rest of the match. Ross Campbell had a chance to wrap up the points from a free kick played into the box but couldn't keep his shot down. Peterhead were building the pressure and won a free kick on the left flank, ball fired into the box and Gethins rose above the defence to finish powerfully.
10 man Forfar held onto a great victory and now sit proudly atop the table by 2 clear points and have a local Angus derby to look forward to this coming Saturday.
Match Report by Brian Henderson