Latest Loons Lottery Big Winner
Wednesday, 05 September 2012 19:10
Andrew Taylor from Kellas was the latest player to scoop a big Loons Lottery win when he collected a cheque for £1000 this week. This follows on from a number of substantial wins over the past three months when two players have collected £1500 each and another a very welcome £2500. The "Loons" may not be as big a lottery as another well known national one, but the "Loons" is probably ahead on local wins!!
Andrew, pictured in "The Toycastle", after receiving his cheque from Forfar Director, Dennis Fenton, gets his weekly ticket from workmate Rab Naismith, who uses the commission he gains on the sale of tickets to pay for the hire of the synthetic pitch at Kirriemuir for the Kirrie Boys Football Team thet he runs. This allows the cost to individual boys to be kept as low as possible.
Forfar Athletic are delighted that this is another example of The Loons Lottery helping a local club with their finances, and repeat as always that further clubs or organisations who would consider using the "Loons" to raise funds are always welcome.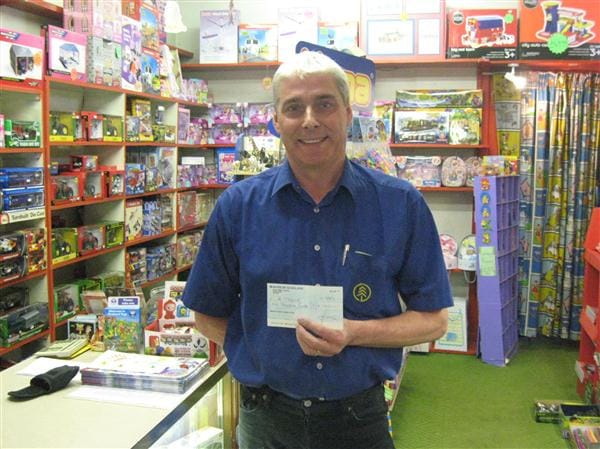 Kathleen McDonald receives her cheque for £1500 from Forfar Athletic Director, Dennis Fenton..